KFX400 440cc Big Bore Motor Package……$1395.00 Kit includes: New Cylinder Works 94mm big bore cylinder, CT head porting, 5 angle radius Race valve job, Web cams, R&R valves and shim head, valve stem seals, cylinder Works 440 Kit, and Cometic complete top-end gasket set.
KFX400 440cc Big Bore Complete Package……$2325.00 Kit includes: Complete 440 Big Bore Motor Package listed above along with the pipe kit, Keihin 39mm or 41mm FCR carb, TRX400EX intake boot, and a TRX400EX K&N air filter with Outerwear.
PLEASE NOTE: Your head is returned assembled and ready to bolt on and run. This kit price is for you shipping us your top-end only. If you would like to ship us your complete motor, add $250.00 for R&R of top-end.
CLICK Here for Shipping Instructions for Your Motor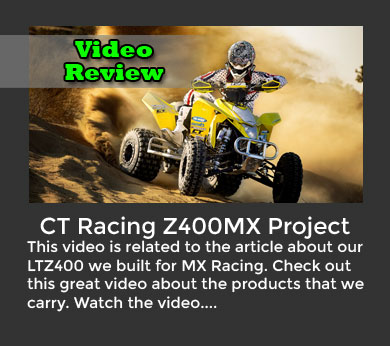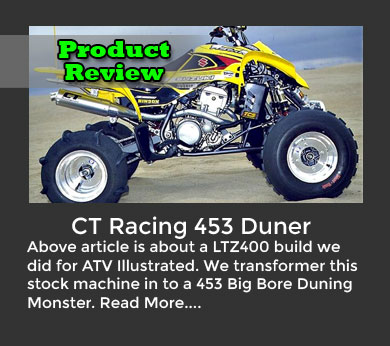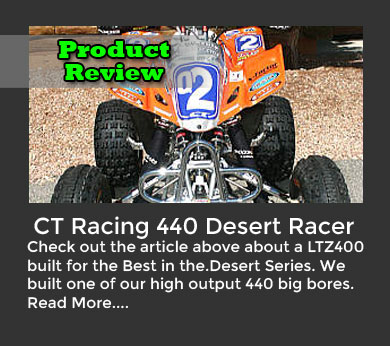 Description

Price

Photo

KFX400 Pipe Kit
$529.95
CT Spark Arrestor 7 Disc End Cap Kit with Bolts
$73.95
ATV Exhaust Turn Down End Cap –

Turn down tip includes 6 stainless steel bolts.

$54.95

Head Porting – CT Racing has done significant amounts of flow bench and dyno testing to offer you the best port layout for your application. We highly recommend getting a valve job at the same time the head is being ported. Our CNC valve job ties in with the port work to offer extremely effective flow numbers.
$350.00
3 Angle Valve Job – Quality valve job.
$144.00
5 Angle Radius Race Valve Job – The 5 angle radius Race valve job significantly raises the flow characteristics at low valve lift and definitely shows a horsepower increase throughout the useable power curve.
$192.00
5 Angle Radius Race Valve Job for +1mm Exhaust Valves – The 5 angle radius Race valve job significantly raises the flow characteristics at low valve lift and definitely shows a horsepower increase throughout the useable power curve. The 5 angle valve job really shines on big valves as the seat diameter is opened up all the way into the aluminum casting, blending to the port work. Adding +1mm valves to a modified engine package helps the mid to top-end horsepower. Most aftermarket hi compression pistons are clearanced for +1mm valves.
$240.00
Split 4 Stroke Cases, Inspect Crank & Trans, & Reassemble
$475.00
Re-sleeve 4 Stroke Cylinder (labor only)
$150.00
Disassemble & Reassemble 4 Stroke Top-end (from bottom-end only)
$250.00
Disassemble Head, Clean Ports, Prep, & Reassemble
$75.00
Rebuild 4 Stroke Crankshaft (labor only)
$100.00
Re-program of Dynatek Ignition to CT Specifications (if wasn't purchased from us)
$50.00
Dura Blue Foam Air Filter
$36.18
Pro Design Pro Flow Foam Air Filter Kit
$94.95
Pro Design Pro Flow Replacement Foam Air Filter
$42.75
Pro Design Pro Flow K&N Air Filter Kit
$123.95
Pro Design Pro Flow Replacement K&N Air Filter
$66.45
K&N Filter ATV Powerlid – Replaces stock airbox lid with K&N Filter element. With increased airflow, produce more HP w/ added protection of another filter. Comes complete with filter cover and jetting.
$150.35 

$121.95

KFX400 Cylinder Works Standard Bore Kit 94mm – Available with Vertex 11.4:1 or with JE 12:1Kit includes: New Cylinder Works 94mm Standard Bore cylinder, Forged Piston Kit, and Cometic top-end gasket set.
$529.95
KFX400 CP Piston Kit 90mm – Available in 12.5:1 Comp Ratio.
$245.00
KFX400 CP Piston Kit 94mm – Available in 12.5:1 Comp Ratio.
$245.00
KFX400 CP Piston Kit 95mm – Available in 12.5:1 Comp Ratio.
$245.00
KFX 400 JE Piston Kit 90mm – Available in 12:1 and 13.5:1 Comp Ratios.
$175.59 

$158.03

KFX 400 JE Piston Kit 92mm 416cc Big Bore – Available in 12:1 Comp Ratio.
$182.76 

$164.50

KFX 400 JE Piston Kit 94mm 434cc Big Bore – Available in 12:1 Comp Ratio.
$175.59 

$158.03

KFX 400 JE Piston Kit 95.5mm 450cc Big Bore – Available in 13:1 and 13.5:1 Comp Ratios. Choose from Standard Piston or PRO SERIES Piston.
$201.04 

$180.93

KFX 400 Wossner Piston Kit 90mm – Available in 12:1 and 13.5:1 Comp Ratio.
$170.00 

$153.00

KFX 400 Wossner Piston Kit 94mm 434cc Big Bore – Available in 12:1 Comp Ratio. Cylinder resleeve and bore required.
$203.34 

$183.00

KFX 400 Wossner Piston Kit 95.5mm 450cc Big Bore – Available in 12:1 and 13.5:1 Comp Ratio. Cylinder resleeve and bore required.
$203.34 

$183.00

KFX 400 Vertex Piston Kit 90mm – Available in 11.3:1 and 13.5:1 Comp Ratios.
$162.16
KFX 400 Vertex Piston Kit 91-94mm Big Bore 407-440cc – Available in 11.3:1 Comp Ratio. Aftermarket cylinder sleeve required.
$173.14
KFX 400 Cometic Complete Top-end Gasket Set – Available in 92mm, 94mm Big Bore, and 97mm Big Bore. Available in Standard or EST. Standard does not include valve stem seals. EST = Extreme Seal Technology (includes valve stem seals)
$41.30
KFX 400 Winderosa Complete Gasket Set – This complete engine gasket set also includes all of the engine oil seals – crank, countershaft, and ETC. Winderosa Gaskets are extemely high quality US made gasket sets.
$116.47 

$104.83

KFX 400 Hot Rods Connecting Rod – Available in stock stroke.
$159.95 

$127.95

KFX 400 Hot Rods Crank – Available in Stock Stroke and +4mm Stroker. Main bearings not included.
$335.95 

$267.95

KFX400 Hot Rods Heavy Duty Complete Bottom End Kit – Available in Stock Stroke or +4mm Stroker. This kit includes main bearings, seals, gaskets, and crank.
$469.95 

$375.95

KFX 400 Web Cam Intake & Exhaust Camshaft Set – Available in Woods, TT/MX, Desert (mid/top), Drag, and MX builds
$475.00 

$427.50

KFX 400 Hot Cam Intake Camshaft – Available in Stage 1 and Stage 2. Cam uses stock auto-decompression mechanism.

Intake and exhaust cams sold separately.

$179.95 

$161.95

KFX 400 Hot Cam Exhaust Camshaft – Available in Stage 1 and Stage 2. Cam uses stock auto-decompression mechanism.

Intake and exhaust cams sold separately.

$199.95  

$179.95

KFX 400 Kibble White Stainless Steel Valves – Available in Standard and +1mm Oversized in both Intake or Exhaust Valves. Recommend valve spring kit part #EC-KW-60-60045.
$29.81 

$26.85 ea

KFX 400 Hi Performance Racing Valve Spring Kit with Retainers – This Kit (EC-KW-60-60045) is Recomended to use with above Kibble White Valves
$148.65 

$133.79

Hinson Billetproof Clutch Basket
$259.99 

$234.00

Hinson Clutch Kit with Fibers, Steels, & Springs
$199.99 

$170.00

Dynatek Programmable ATV Ignition – Direct plug in performance: 4 programmable timing curves, programmable rev limiter, external curve selector switch, plug-in module replacement, and more. Comes with CT Program Installed.
$369.99 

$333.00

KFX400 Keihin FCR Carburetor w/ Cable – Available in 39mm and 41mm and includes thumb throttle cable.
$880.95
KFX400 Keihin FCR Carburetor Kit – Available in 39mm and 41mm.

Kit includes carburetor, thumb throttle cable, TRX400EX intake boot, and TRX400EX K&N air filter w/Outerwear.

$999.95
Fasst 1-1/8″ Flexx Bars – These are the best off road bars money can buy. Bars come with three different elastomers to get the proper cushioning for your type of riding along with a cross bar pad in your color choice of blue, grey, or red. Please Note: 1-1/8″ bar mount kit is required.
$359.95

Fly Aero Taper 1-1/8″ Fat Bars with Bar Pad – Bars are available in black, gun metal, or silver. Please Note: 1-1/8″ bar mount kit is required.

$69.95 

$59.95

Fly Universal 1-1/8″ Handlebar Mount Kit – This is a clamp set than converts your stock 7/8″ bar clamp to the 1-1/8″ Fat Bar set up. Can be used with any brand 1-1/8″ bars.

$44.95 

$39.95

Streamline Reflex Pro Pack with Clutch and Brake Lever – Available in Black, Blue, Red, and Orange.

$199.99 

$164.95

Streamline Steering Stabilizer 7-Way Adjustable Non-Rebuildable – Available in Silver, Red, Blue, or Black.

$139.99 

$126.00

Streamline Steering Stabilizer 7-Way Adjustable Rebuildable – Available in Silver, Red, Blue, or Black.

$159.99 

$144.00

Streamline Steering Stabilizer 11-Way Adjustable Rebuildable – Available in Silver, Red, Blue, or Black.

$179.99 

$162.00

Streamline Steering Stabilizer Carbon 11-Way Adjustable Rebuildable – Available in Silver, Red, Blue, or Black.

$199.99 

$180.00

Pro Design Tether Kill Switch – Available in Black, Blue, or Red
$36.95
CV4 Billet Tether Kill Switch Mount – Handlebar mount for Pro Design and Pro Armor tether kill switches.This mount allows you to mount your switch to the bar without using up all of the spacing. Allows you to mount the switch much closer to the bend. Available in Black and Red.
$49.95
Streamline Steel-braided Front Brake Line Kit – (Please specify color & length) Available in black, blue, clear, green, red, or smoke. Some colors and lengths may need to be special ordered.
$89.95 

$80.96

Streamline Steel-braided Rear Brake Line – (Please specify color & length) Available in black, blue, clear, green, red, or smoke. Some colors and lengths may need to be special ordered.
$39.95 

$35.96

Billet Brake Line Clamp –

1 pair (Please specify color) Can be used with any 3/4″ or 1″ diameter A-arm. Available in black, blue, red, or silver.

$29.95 

$26.96

Lone Star Racing Anti-vibration Steering Stem – Available in +1″ exteneded length and 7/8″ or 1 1/8″ Handlebar clamps included.

$369.95 

$325.00

Lone Star Racing Axcaliber Axle – Axcalibar Pro Racing Axles are one of the most highly recommended axles on the market for both racers and recreational riders.
$449.00 

$404.00

Lone Star Racing Dual Row Bearing Carrier –

The billet aluminum bearing housings are machined from 6061 aluminum for superior housing strength.

$185.00 

$167.00

Dura Blue Heavy Duty Axle – This axle is a recreational level axle thatis twice the strength of the stock axle. It's a cost effective choice when reliability is a prime concern.
$406.00 

$346.00

Dura Blue Eliminator 2+2 Extended Axle – The Eliminator axle used for all forms of racing and high performance applications. Many of the models come with the patented Posi•Lock system which removes threaded sections from the flexing area of the shaft (a source of crack generation).

$460.00  $391.00

Dura Blue Eliminator X-33 Pin Drive Axle with CAST Hubs – The X-33 axle uses the same superior material and heat treating as the Eliminator. The unique difference is in the design of the wheel hub mounting area. Standard design ATV axles neck down to about 1″ in diameter. A splined wheel hub slides onto the axle shaft and is retained with a hex nut. As all ATVer's know, hubs loosen frequently. The X-33 changes all that. The wheel hub is clamped solid and driven by a pin on a 1-3/8″ diameter shaft. This axle is rifled to reduce weight near the rotational axis of the ATV. The X-33 allows for 16 different wheel offset alternatives.

$655.00  $557.00

Dura Blue Eliminator X-33 Pin Drive Axle with BILLET Hubs – This X-33 axle uses the same design, superior material and heat treating as the X-33 w/ cast hubs. The unique difference is in the wheel hub and that they are billet aluminum for superior strength.

$736.00  $626.00