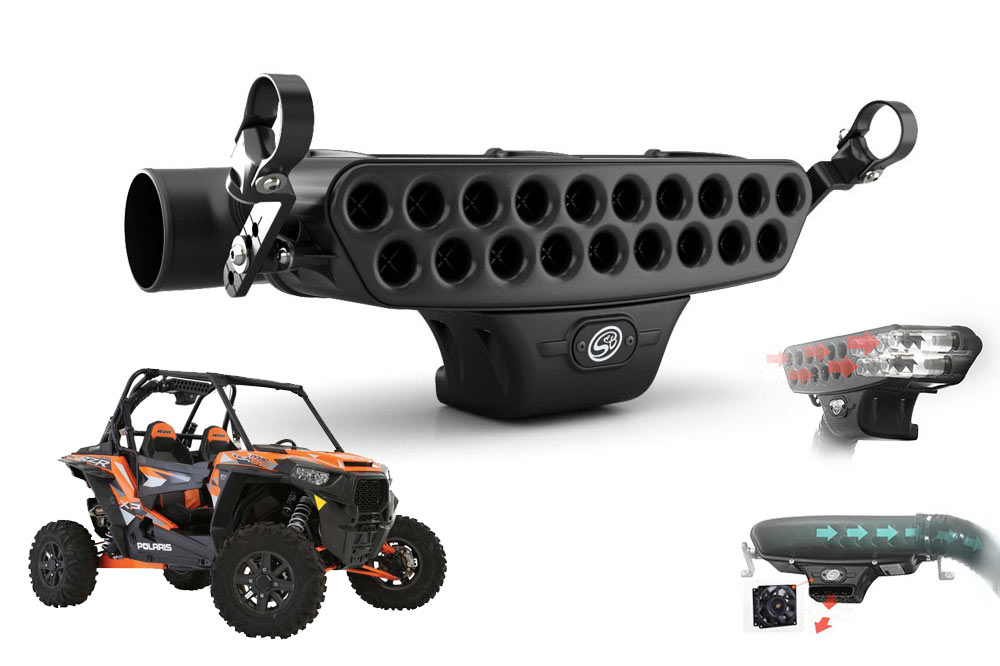 S&B Filter Particle Separator
The S&B Filter Particle Separator use same technology military helicopters have to maintain power in extremely dusty conditions is now available for your Polaris RZR. The Particle Separator ejects 94% of the dust from the airflow prior to it reaching the stock filter, keeping your filter clean and engine protected..
S&B Filter Particle Separator removes 94% of dust from the airflow before it even reaches the stock filter
This dramatically extends the lifespan of your UTVs air filter while helping to maintain horsepower and torque for a much longer period of time
The system was designed large enough, so that there is no loss in power when used with the factory stock filter system
The particle separator enables the air filter to last over 15 times longer before it reaches capacity
The particle separator system does not require maintenance however, you may want blow it out with compressed air occasionally depending on your riding conditions
Clean air is directed to your air filter while the scavenge fan ejects dust through exhaust
The Scavenge fan uses 3.1 amps nominally to eject 94% of dust out
The Scavenge fan in the particle system is IP rated and specially designed to endure extremely harsh conditions, which includes exposure to water and dust for over 50,000 hours of operation
Easy to install, no drilling or cutting required
Billet clamps attach the UTV's rear rollbars and can accommodate virtually any roof or lower rollbar configuration
S&B warranties the fan for 3 years from the date of purchase
 How the System Works:
STEP 1

Dirty air enters the
vortex tubes.

STEP 2

The vortex tubes separate
the dirt from the air.

STEP 3

Dirt is blown out the back and
clean air goes to the stock air filter.

Your UTV Air Filter Stays Clean

Since the S&B Particle Separator ejects 94% of the dust before it reaches your stock filter, you won't have to replace your filter as frequently saving you time and money.

Custom Cage? No Problem!

The versatile billet clamps allow the Particle Separator to be installed on virtually any roof or cage configuration. The clamps attach to your RZR's lower or upper rollbars for a secure fit.